[ad_1]

A strong cold front ushered in a line of showers and period of clouds Friday afternoon, ushering in a dramatic drop in temperatures since then as we welcome the weekend. The main story this weekend will be the cold air, with temperatures by Sunday morning forecast to be colder than how it was Christmas weekend.
This Saturday, there will be lots of sunshine but it is going to be breezy. High temperatures will be 10-15F below average into the low to mid 60s but it will be a struggle to reach that, with temperatures throughout the day mainly in the 50s. Winds will also be present, sustained up to 20 mph and gusting up to 30 mph near the coast. This will make for hazardous marine conditions with a Small Craft Advisory in effect for the waters off Miami-Dade and Broward Counties as well as surrounding the Keys.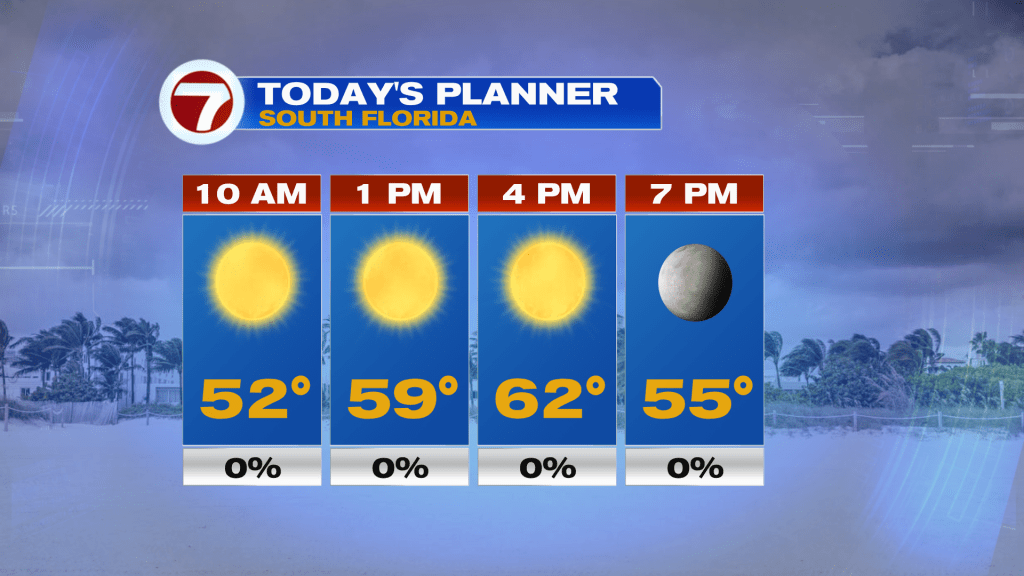 Also with the very low humidity and breezy conditions, a Brush Fire Watch will be in effect from 12-7PM across much of Miami-Dade and Broward, meaning that if a fire were to start, it will be easy for it to spread quickly.
Tonight into Sunday morning will be the coldest period out of this weekend as clear skies and a lighter northwest wind will allow for temperatures to drop further compared to Saturday morning. Temperatures across the mainland metro will mainly fall into the upper 30s to low 40s but will feel several degrees colder due to the light wind.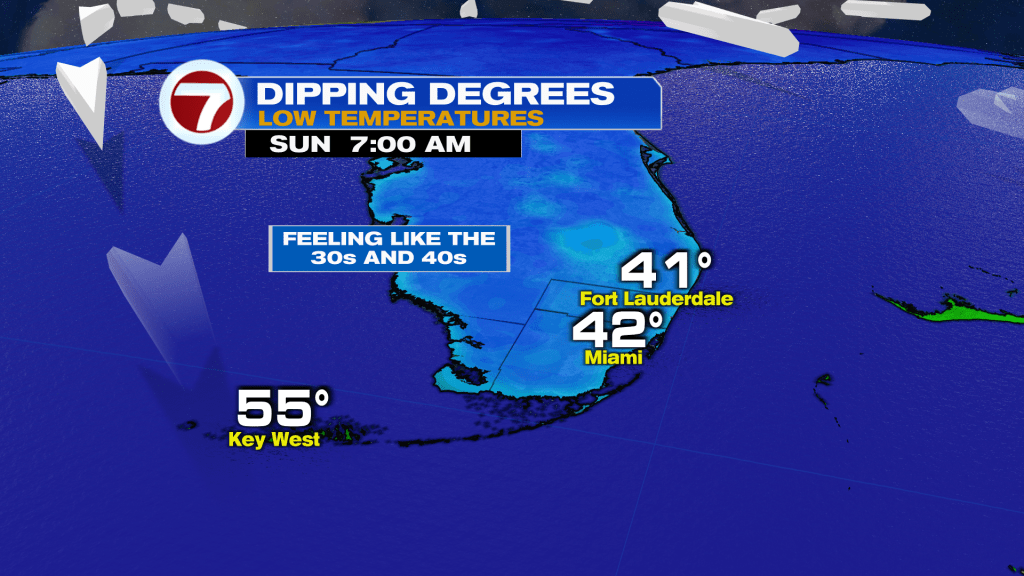 Wind chills Sunday morning will be in the mid to upper 30s.
Into the Florida Keys, it will not be as cold but certainly below average with temperatures forecast to fall into the low to mid 50s.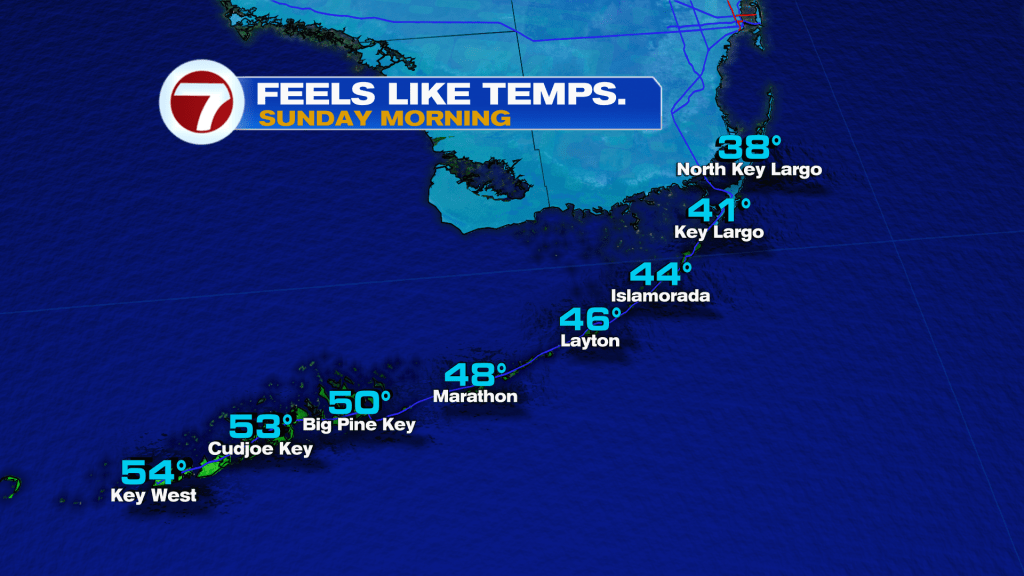 As a result from this cold, a Frost Advisory has been issued for inland Broward County from 1-8AM on Sunday. This is where temperatures are forecast to fall to 33F and frost is therefore expected to form.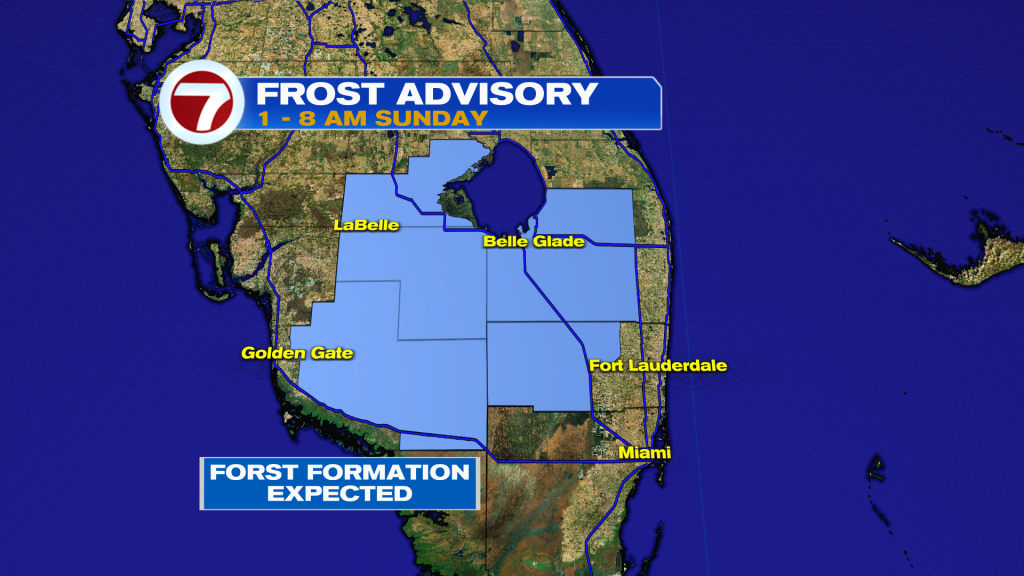 During the day Sunday, temperatures will warm up quicker but it will still be a cold day with highs generally in the mid 60s. The positive note about Sunday is that winds will be much lighter, so the plentiful sunshine will actually make the cold feel less harsh.
The start of the week will remain cool across South Florida, including on MLK Day, with highs returning back into the 70s paired with mostly sunny skies. Highs in the 80s are then forecast to return starting Wednesday, with lows back near normal into the 60s. Rain chances will also stay non-existent at a 0% chance.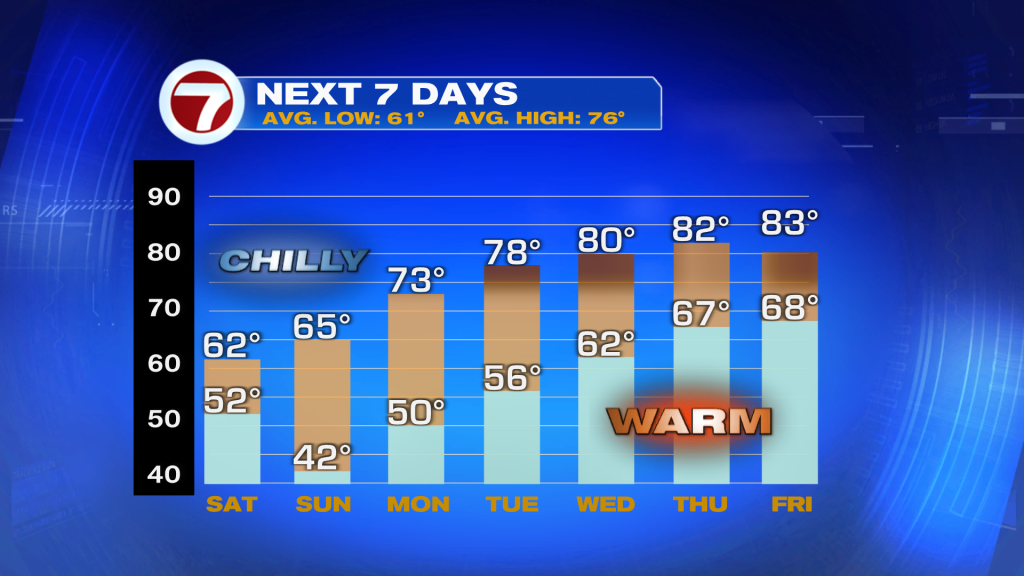 [ad_2]

Source link