[ad_1]

Following a warm and partly sunny day on Saturday, Sunday will be even warmer with more sunshine. A cold front did stall near the lake region yesterday morning but has since lifted back to the north as a warm front. That will help clear out more of the clouds this Sunday and will also allow for temperatures to increase a degree or two. Many locations across mainland South Florida will experience high temperatures this afternoon into the mid 80s and into the low 80s across the Florida Keys.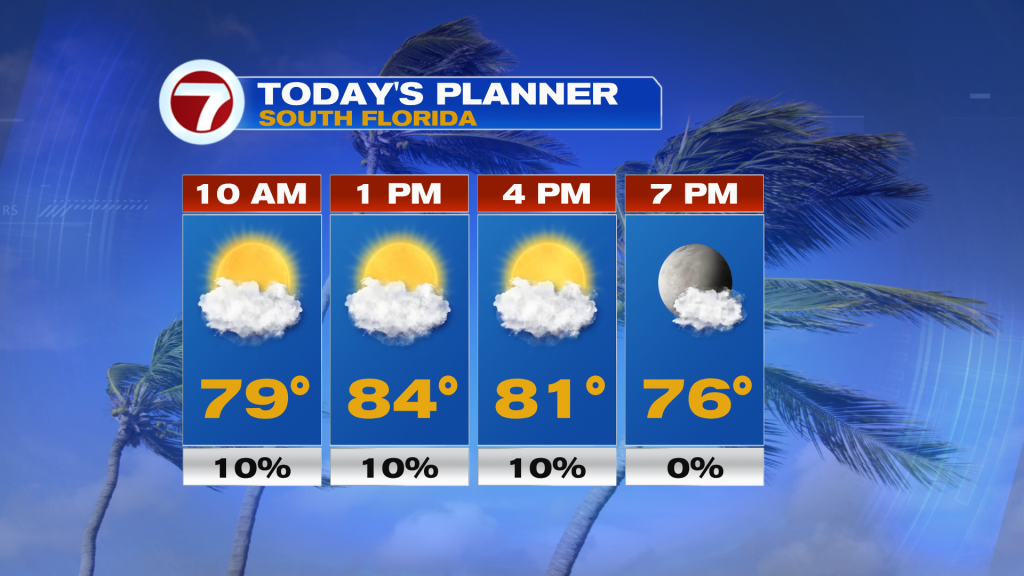 Not only will it be brighter but it will also be breezy to windy. Winds are forecast to gust as high as 25-30 mph this afternoon across land areas. Those winds will also lead to hazardous marine conditions, with a Small Craft Advisory in effect for our east coast waters through tonight in addition to a moderate to high rip current risk at the beaches.
As we head into to the start of the new work week, we will be tracking two additional cold fronts. The first will arrive on Monday. Ahead of the front, it will be warm with record heat possible in Miami as highs soar back into the mid 80s, which is about 10F above average. The morning should be dry with a mix of sun and clouds. Then a broken line of isolated showers will move through the area during the afternoon hours. Most areas will remain dry despite this front, and heavy rain is not expected for those that do see the rain.
Behind this next front will be a drop in temperatures with a wind returning out of the northeast. Highs on Tuesday will be near normal in the mid to upper 70s under partly cloudy skies paired with a return to the breezy conditions, especially near the coast. That return to average will be very short-lived as we warm back up into the 80s on Wednesday with rather sticky humidity conditions.
It's not until Thursday when another front arrives and this one will be stronger. Ahead of the front, a few showers will be possible across South Florida during the day. Then once the front pushes through by the overnight hours, temperatures will drop with highs in the 70s and lows in the 50s across the mainland on Friday and Saturday.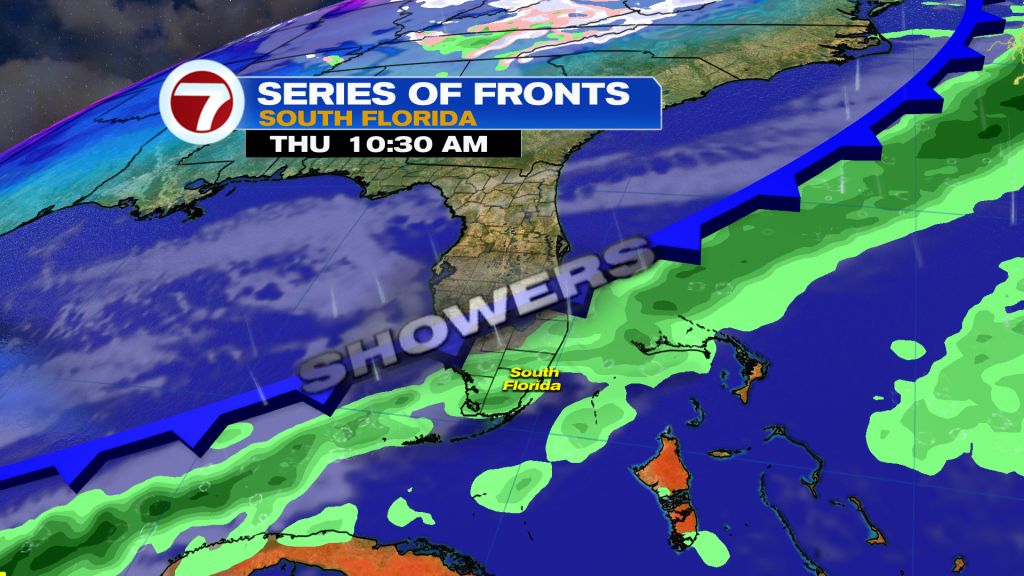 [ad_2]

Source link